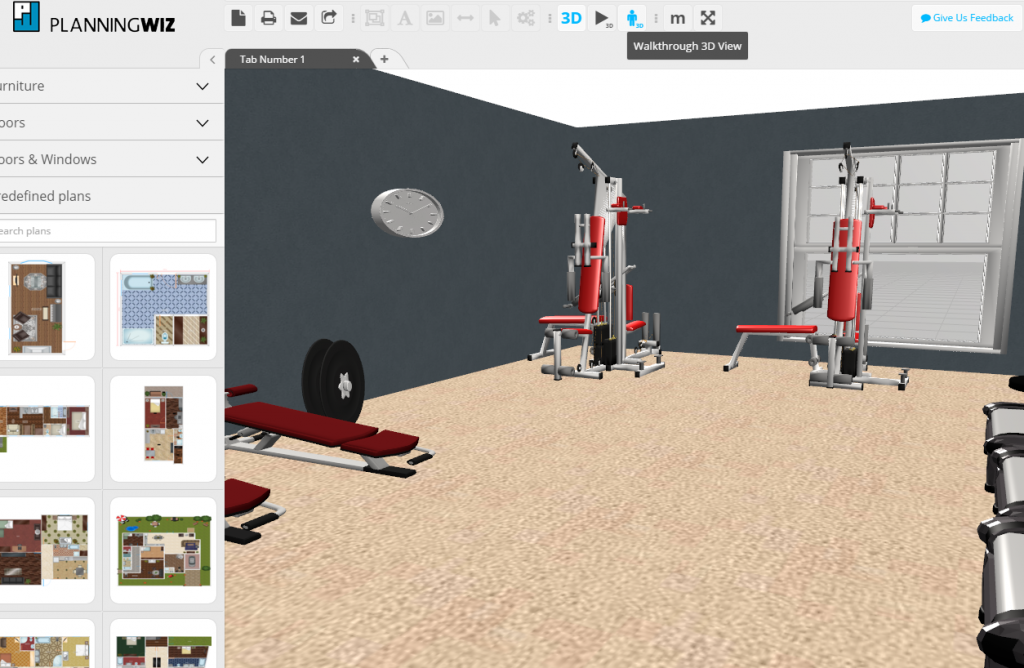 Turning prospects into repeat customers is a daunting task for fitness equipment manufacturers and resellers, especially when it comes to selling bulky devices.
Fear of misfits has long dwindled the profits of these entrepreneurs, as customers have to take on high risks when making the purchase without seeing the products first. The uncertainties on how the desired equipment fits in the space delay the purchase decision and often lead the prospect to other providers. Furthermore, "blind" purchases may lead to high return rates. While some gym owners told us they do not return merchandise due to the high costs of packaging and shipping, this might not be the case for all of them.
Considering that the initial purchase costs a very small new fitness studio about $25K, and a medium sized studio with over 25 equipments around $150K. It comes as no surprise that studio owners are eager to find ways to limit the risk of getting the wrong equipment. As a vendor, you can address this aversion with surprising ease and quite inexpensively. All they have to do is integrate a user friendly floor planner with their websites or equip their sales forces with a planner that can be used on site to generate accurate plans with their products almost instantly. Such a solution can improve not only the bottom lines of these companies but also the brands themselves.
Assuming you are a fitness equipment manufacturer or reseller, these are the main benefit you would get by integrating a floor planner with your web site:
Increased Sales Volume
Being able to preview your products in a plan means a lot to your prospective customers. This would help them figure out upfront if the chosen product fits in the planned space, encouraging them to make the purchase decision on the spot. With this issue solved, your site visitors would have no real reasons to visit your competitor's online or physical store and to postpone the purchase. In short, the floor planner will bring you significant sales increases.
Reduced Return Rates
With a floor planning software your customers can easily find if the equipment they wish to purchase is appropriate for their space from the comfort of their homes. Going to the store to see the products is no longer necessary when site visitors can placed the desired items into a perfect replica of their rooms or floors. These easy to do plans lowers your return rates considerably.
Brand Differentiator
Companies that understand the importance of the online environment in selling fitness equipment and furniture have already turned their attention to online floor planners. According to our customers, the floor planner integrated with their websites added value to their offer, acting as an important image and sales booster.
The floor plans your customers would do will include not only your products but also branding elements such as your company logo, slogan and colors. All these elements will help the users of the planner remember you and turn into loyal customers.
Lead Generation
Users have to register to the floor planner in order to save a floor plan. This means your qualified leads must provide you with contact details, which you can then get from the Reporting Area add-on. At this stage all you will need is a good salesman to close the deals. The sales increases brought on by our solution would most certainly cover the cost of the planner, as many of our customers have discovered.
Additional Advantages Guaranteed by our Online Floor Planner
Some of the available solutions are affordable and have no strings attached. PlanningWiz, for example, is subscription based with a 1 month minimum contract. You may use a free custom trial version or existing planners customized for our existing customers to learn what the planner can do for you.
Some planners have fully featured 3D versions, while others come only in two dimensions. Depending on your industry and business model, both 2D and 3D may work well. Our customers in the Gym and Fitness equipment manufacturing / reselling area use the planner to show their prospective clients how the products fit in the available floor space, and the 3D version helps them preview the product in space prior to purchase.
If the previous ideas did not convince you to try our planner, here are a few additional reasons:
Our customers are almost without exception surprised by the quality of the support experience they got with us;
The extensive reporting metrics the planner generates allow you to target highly qualified leads and customers with the most appropriate promotional materials and sales pitches;
The planner's interface is both modern and rich in options;
Adjusting the planner to meet your specific needs takes almost no effort;
Our service is affordable;