PlanningWiz Benefits
How useful is a floor planner for the furniture industry? From our experience and from the experience of our customers, who are successfully using the planner, we found the following main benefits: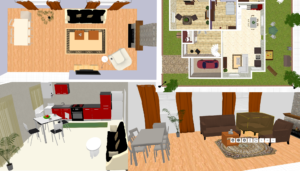 1.Better engagement with the prospective clients
Answers to the question "Will this fit in my space?"
Presents your products in an interactive way
Provides additional information about the products and your customers are more prepared when visiting the store.
2. Support in the sales process
Strengthens and supports the buying process online
Facilitates the selling by allowing you to use less time and resources in the process
Gives you the opportunity to present prebuilt designs showing your products for a faster sell.
3. Qualified leads
Provides you the Reporting Area panel with the accounts registered
Allows you to analyze the user's profile and preferences.
4. Increased preference for your brand
Keeps the potential buyer more on your website, thus the greater the chances to visit your store
Helps you keep up with the trends because the better the tools you give the consumer, the better the experience with your brand
Supports you to create and maintain a loyalty program.